Our web site policies and logo
Web Site Policies
This web site displays news and information regarding the Network Medicine Global COE Program, Tohoku University, Japan.
Your comments and suggestions are welcome. Please contact us via e-mail(nm-gcoe[atmark]m.tains.tohoku.ac.jp).
Copyright
The copyright of information carried on this web site, including articles and photographs is own by The Network Medicine Global COE Program Office or the provider of the relevant information. All text and graphic material on this site may not be reproduced without the written permission of The Network Medicine Global COE Program Office.
About our logo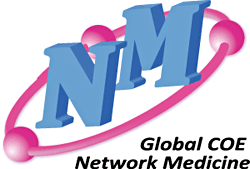 We call new type of medical system as "Network Medicine". In consideration of societal demands, we will focus on three major challenges, metabolic diseases, cancers, and immune diseases. A new goal of our project is to understand temporal and spatial integration models and to develop innovative diagnostic, therapeutic, and preventive strategies based on our understanding of signal network systems. This logo was designed expecting Network Medicine make a great leap forward at the core of three challenges.