We are supporting graduate students and newly establishing scientists with various programs and Network Medicine Matrix (NMMaT). NMMaT consists of education/research Platforms (PF), Interdisciplinary Research Forces (IFs), and Tohoku Univ. Medical Research Network.
Graduate Student Education
we will:1) encourage young scientists to acquire a specialty as well as interdisciplinary knowledge, 2) encourage young scientists to conduct challenging and groundbreaking research, and 3) foster successors for the Network Medicine leadership.
In particular, our program will give graduate students an assignment to develop a research proposal in the last half of their doctoral courses. From these proposals, outstanding original projects will receive generous grant support to help develop these graduate students into independent investigators after graduation.
Overseas graduate students will also be invited and will be generously supported by student grants (stipend).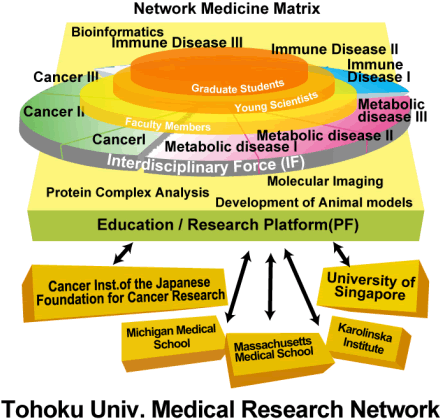 Education/Research Platform (PF)
Education/research Platforms are being established to support the young scientists in all aspects, which will function as a core-facility for education and laboratory training of graduate students and to provide support for specific research technologies, such as protein-complex analysis, development of disease-model animals, experimental animal pathology, and visualization of molecular networks.
Interdisciplinary Research Forces (IFs)
Each interdisciplinary research team will comprise several professors (team leaders) and young scientists in a forum in which the young scientists will hold the central place in elucidation of the mechanisms of the disease network and technologic development.
There are 11 IFs each headed by Professors Oka, Harigae/Sugamura, Igarashi, Miyata, Nakayama, Nishida, Noda, Shimokawa, Takai, Terasaki, or Yamamoto.
Tohoku Univ. Medical Research Network
We are currently building up the Tohoku University Medical Research Network with other institutions to promote international exchange and to cultivate human resources. In addition to the National University of Singapore and The Cancer Institute of Japanese Foundation for Cancer Research, we are launching research/education programs with Karolinska Institute, Massachusetts Medical School, and Michigan Medical School.